Book Review
Previous review || Next review || All Reviews
Miss Gulag
Directed by Maria Yatskova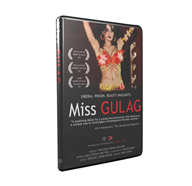 This is quite simply one of the finest documentaries of this decade on life in Russia. Director Maria Yatskova uses the pretext of a beauty pageant held at a women's prison outside Novosibirsk to examine the lives and fates of a handful of women caught up in the Russian prison system.

What results is a searing portrait of a grim archipelago, a touching look at the women's families and communities, and a deeply nuanced portrait of Russian justice.

The cinematography and editing is brilliant, from the opening scene, where a woman in a Cinderella dress smiles and admits she is in for assault, to the Eisensteinian shots of administrators, to the calm panning of prisoners' faces. Miss Gulag has a determinedly understated quality, capturing revealing details in a matter-of-fact way, without judging – from the contestants' outlandish costumes, to visiting day, to the mundane details of one prisoner's release.

Order this film online and/or contact your local PBS station and tell them they need to air this documentary.

— Paul E. Richardson
Purchase this item
Reviewed in Russian Life: Sep/Oct 2010